REAL TIME HANDICAPPING BOOK and SOFTWARE PROGRAM, handicapping system and book:
We are now up to Version 2.00 and we've added two new ratings, Total Early and Pace-Class. With Total Early: Real Time ratings are based on an average of three recent races. So we took the Average Speed Rating, the Average second call pace rating, and the average ESR (early speed rating), and added those three together. For Pace-Class, we created an average of two of our ratings, Total Pace, and Class. I've noticed that the Class Rating works very well. If a horse is ranked on top according to the way the book says that is the best way to rate horses (Total Pace for sprints, Total Power for routes), and the horse is ranked 1st or 2nd in class, I've noticed that the horse's chances of winning are much better, and the Class rating by itself has produced a lot of longshot winners. I combined Total Pace and Class as an extra rating based on some other tests I ran. It shows both current form and class. We also improved the print option, so it prints the way it was sorted. And we improved the scratch option.
(Note: If you have an older version and want to upgrade, email me at pando4444@gmail.com, we also improved the print option)
Real Time Handicapping is my latest handicapping program, and book. Real Time Handicapping features several unique ratings, including Main Track Speed (for when races are washed off the turf), Average Speed, Late Pace, Total Pace, Class Rating, and Power Prime. These ratings are an average of three races using my own formulas. The 50 page book that comes with the software shows you exactly how to use the ratings to handicap any type of race, and how to find longshot spot plays and good bets.
You can order from this page or from the product page. I'll be including more examples on this page, and instructional videos. To order, click on the Buy Now button below.
This was a day at Parx, Tuesday, November 24, 2020. I ranked each race the way I show in the Real Time book, which is Total Pace for sprints, Total Power for route races. In 10 races, Real Time had the top winner in 8 of the 10 races. (more to come)
One of the new ratings, Pace-Class, nailed huge exacta and trifecta payoffs in the last race at Belmont Saturday. A simply $1.00 exacta box and $0.50 cent trifecta box of the top three ranked Pace Class horses, a $9.00 wager, returned $5729.88!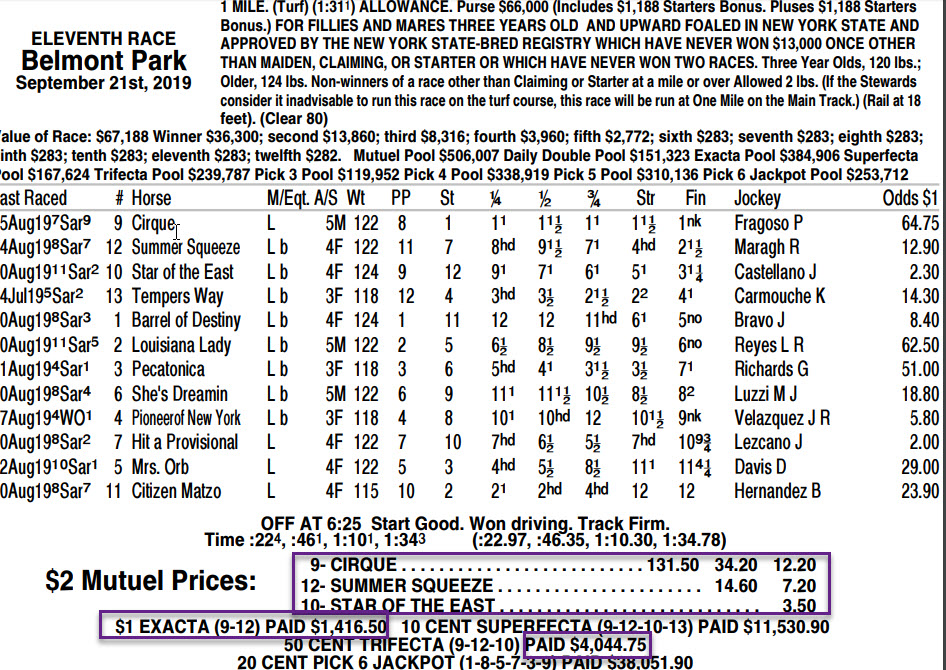 Saturday, September 21

Saturday, March 2
In the 5th race at Oaklawn Park Saturday, March 2, in a route race, Real Time Handicapping picked the $82.20 winner right on top. Those of you who have the program know that I recommend ranking route races by the Total Power, and Power Prime would be the next best route rating. Well, Maria Rose was top ranked on both, but also top ranked in Averge Speed, Late Pace, and Total points and Average Points. She made a bold side wide move on the turn and won at a fat price.


Wednesday, February 20
Real Time Handicapping Program picks 9 winners on top in 11 Races at Gulfstream
I got an email from a customer who purchassed Real Time Handicapping. Here is the email:
Good evening Pandy, enjoying the new book and software. Gulfstream Park today 20FEB2019, 9 top winners out of 11 races, and 1 second. $2.20, $6.40, $4.00, $13.60, $9.00, $3.00, $4.60, $10.20 and $5.80. Did okay Monday as well. Thanks, Jim.
Sunday, February 10
Real Time Handicapping Program picks 8 winners on top in 10 Races at Tampa Bay
Sunday, February 10th at Tampa Bay, Real Time Handicapping had a huge day. Using the preferred ranking system and method I recommend in the book, ranking sprints by Total Pace and route races by Total Power, the Real Time Handicapping Method picked 8 winners ON TOP on the 10 race card. It also had a big day on Saturday the 9th, but for now, I'll show the results of the 10th. Some of the winners were ranked 1st in other categories, too, but not to confuse anyone, I'm mainly showing the preferred ranking method.
The winners paid $3.20, $6.20, $13.60, $4.60, $11.20, $3.80, $9.40, and $31.00
| | |
| --- | --- |
| | TAMPA BAY |
1st Race

2nd Race

4th Race

5th Race

6th Race

7th Race

8th Race

10th Race

Friday, January 18
I had some time this afternoon, so I ran Real Time and made a few bets, exacta key boxes. In the 6th at Tampa Bay, Bartletts Mark, top ranked on Total Pace in this turf sprint, won and paid $11.20. The second ranked horse, Storm Protection, went off at 37-1 and finished 2nd. The Cold 8-2 exacta paid $259.20!
$259.20 COLD EXACTA!
Friday, January 18

Saturday, November 25
At Aqueduct on Sunday, November 25th, in the 9th race, a two year old named Mimic won easily and paid $77.50. Wouldn't it be nice if you could include longshots like that in your exotic wagers? Perhaps throw the horse into the Pick 4? This Pick 4 paid $985.00 for a $0.50 cent wager!
Mimic was impossible to have if you were using traditional handicapping and looking at the past performances. But that Sunday at Aqueduct, not a single horse went wire to wire. In Real Time Handicapping, T-Power (Total Power) combines late speed and speed figure, and uses an average of three races. Horses that can finish well had an advantage on Sunday and Mimic stalked and drew off to win by 9 lengths. Here you can see that Mimic had the second best Total Power rating in the field. Traci's Girl was the obvious horse here, she had an advantage in almost every category. But she also had post 1 on a dead rail day and the jockey gunned her to the lead. She set the pace against the bias and finished last. The way the track was playing, if you had this printout, it was not impossible to use Mimic on your ticket.

Saturday, December 8
I kind of went back and forth deciding whether to put the 7 or 8 on top in this spot play at Parx Saturday, but I was planning on keying both horses in the exacta anyway. It paid $151.00. I didn't bet the trifecta, but it paid big. As you can see in the Real Time Handicapping printout, it had the exacta cold ranking the horses off of Total Pace, which is what I suggest for 6 furlong races in the book. The book is almost finished. The software comes with the book.
| | |
| --- | --- |
| | PARX |
RACE 5
7 TOMMYS TOP CAT (finished 2nd at 8-1 odds, the 8-1 exacta paid $151.00, the 8-7-6 trifecta paid $608.20 for a $2 trifecta)
8 BEYOND HONOR (won, paid $19.20)
1 MYAKKA RIVER
6 FLASHONFORTY

GRAY ATTEMPT won and paid $14.60 in a MSW race at Churchill Downs. Click on the link below and it will take you to a youtube video explaining the numbers.

Click on the link below which will play a youtube video of the Gray Attempt race.
Click on the link below to see a video that shows the ranking screen for the same race.
email - pando4444@gmail.com
Updated June 2022
Update, June 2022