I had a good Breeders Cup with my Best Bet winning both days, one at 7-2 on Friday, and then Accelerate at 5-2 on Saturday. Below are the Real Time Ratings ranked by Total Power. Accelerate had the highest Total Power and the highest Pace Adjusted Prime ratings. He was tied with West Coast for top Average Speed, and he also had the highest Total Average of all the ratings. Congratulations to trainer John Sadler, who finally got his first Breeders Cup win, and it was a big one.
2018 Breeders Cup Class Real Time Ratings

Diamond System Printout for the 2012 Breeders Cup Classic
Note: Every year I post the Diamond System picks for the Breeders Cup Classic on the free picks page. As you can see, it picked the $125.40 exacta cold. Fort Larned had the lowest and best Diamond Rating of 99 and he also had the highest and best Formula Power Rating of 104.7. The track was fast and speed favoring at Santa Anita and note that Fort Larned and Mucho Macho Man have the two best Diamond Pace (early speed) ratings of 88 and 93 plus the two best Formula Pace ratings of 101 and 98.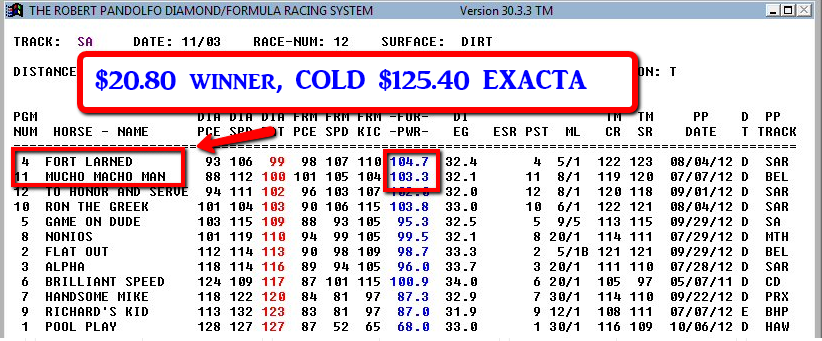 Copyright Pandymonium Publications.
For problems or questions regarding this web contact
[pandyspicks@yahoo.com].
Last updated: February 22, 2013.