Power Pace book is now in Pdf form only. Plus you get the download (version 7.4) of the computer system that works with Brisnet single data files:
Power Pace Handicapping (A new and powerful approach to Pace Handicapping) by Bob Pandolfo. The book comes with a free software program (uses Brisnet single data files)
Testimonials:
Pandy I'd like to commend you on the great job you did on the Power Pace Handicapping book and software. I've been at this game for pert near 50 years and one of the things I have learned along the way is to never doubt anything Bob Pandolfo puts out. Take it for what its worth. Terry.
EXPLANATION
Power Pace Handicapping featuring The Speed And Stamina Spot Play Method for handicapping route races. But, the book also shows how to use pace handicapping to handicap sprints and turf races. In this book, I created new pace figures based on the Brisnet pace figures. I also included a chapter that shows you how to use the Timeform Pace figures in the same manner. And, the book comes with a free software program that works with Brisnet single data files, plus other formats such as Multicap and Procap files. The book is loaded with easy to understand examples, illustrations, and charts. Power Pace handicapping will help novice or experienced handicappers win more consistently. My game improved as I tested and developed the methodology. The book shows how to spot horses that have the late energy to outfinish their competition, but also the tactical speed to stay within striking range. Also covered is ESR (early speed rating), a dynamic longshot indicator in sprints.
POWER PACE HANDICAPPING BOOK in PDF form and software program sent by download - $29.99
More on Power Pace Handicapping
On Tuesday, March 22 at Parx, Power Pace spotted this $46.00 winner at Parx. Note that my new program, Formula Pro, also had this ranked 1st on Pace. No one calculates pace the way I do with these computer handicapping programs. These ratings are not just based on the pace call. These are compounded ratings based on a combination of factors, and, they are based on averages of more than one race, which gives you a much better look at a horse's ability. Here you can see that Liar Side Chat was ranked first in ESR (Early Speed Rating) and first on AE2 (Adjusted second call).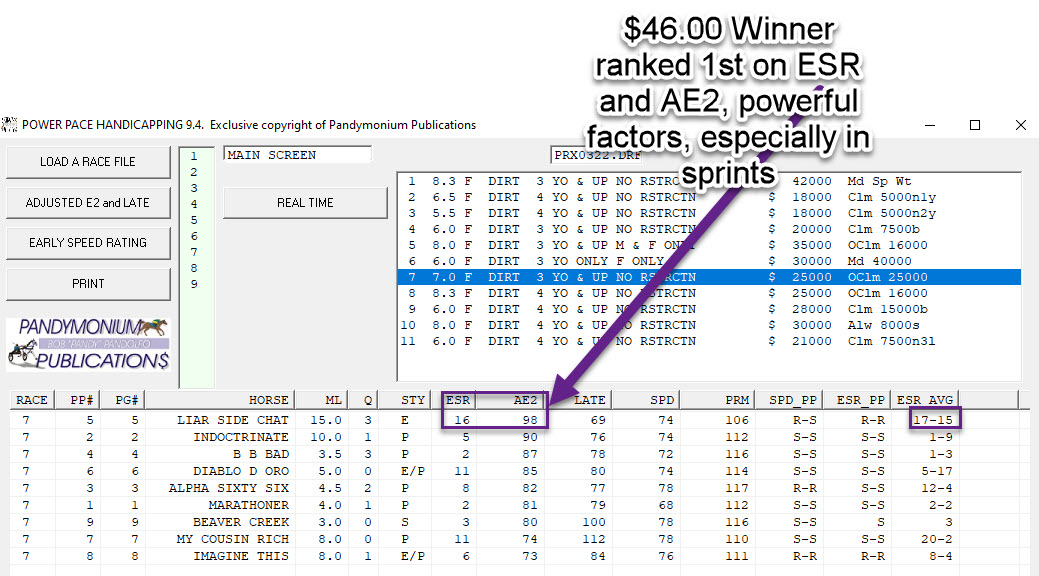 Gulfstream Park, Sunday, December 1, 2018
At Gulfstream in this wide open turf stakes race, Uncle B had the top Late rating of 133 using Power Pace Handicapping. As I say in the book, the best plays in route races, are horses that can finish but also have the ability to stay within striking distance of the pace. Here you can see that Uncle B had an AE2 (Adjusted Bris Early pace at the second call) of 102, which was the 5th best in the race and he was one of five horses with an AE2 of over 100. And, his Power Pace Late rating of 133 was the best in the race. The two races that were used to rate him were both route races (as you can see by the R-R. That's good because this was a route race and route races are more accurate to rate a horse off of, if today's race is a route. Also, if you look at his ESR Average, ESR stands for Early Speed Rating and Uncle B has the third best ESR in the race, which also shows that he has good tactical speed. Keep in mind, these ratings are not in the past performances. These are ratings that were created using formulas I developed, which reward a horse for pace and its ability to match or beat par times. This is the power of Power Pace Handicapping. Uncle B paid $74.60 to win.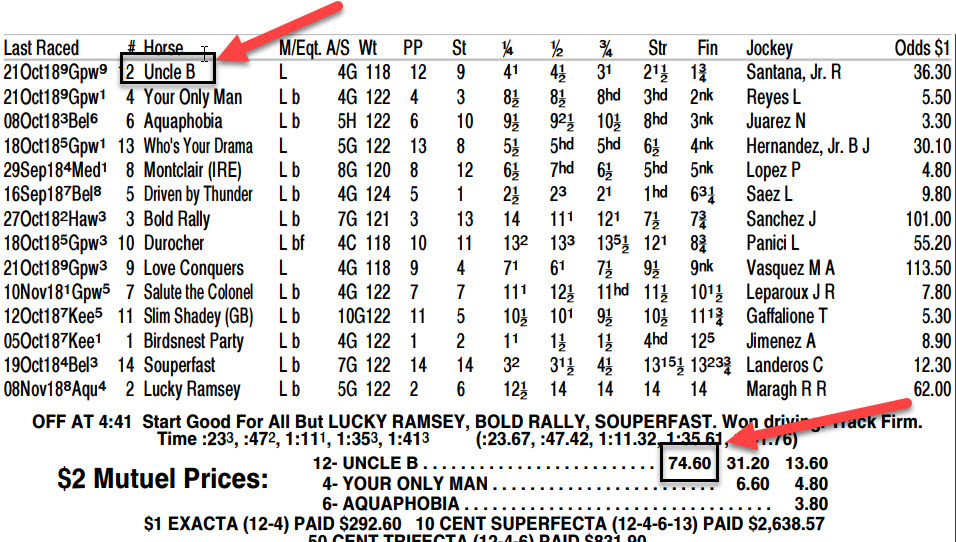 How good is ESR in sprints? How about this top ESR at Delaware Park (Wednesday, September 28). It paid $117.00.

Here is another sprint at Delaware Park from Wednesday, September 28. I love these Power Pace Handicapping plays. Below is the Power Pace Handicapping printout. You can see that Gold Value has a strong 28 ESR (early speed rating), the top pace figure (AE2), the top Late Figure, and the best average Speed. All of these ratings are propriety ratings created by my methodology, using the brisnet past performance information. $11.40 to win on a horse that looked like a lock.

Does ESR and AE2 spot live longshots in route races as well? Look at the printout below, Bourbonfuhrme shipped in from Gulfstream Park on Sunday, September 24, 2017, took blinkers off, and won and paid $148.50! This horse has the top ESR and the top AE2!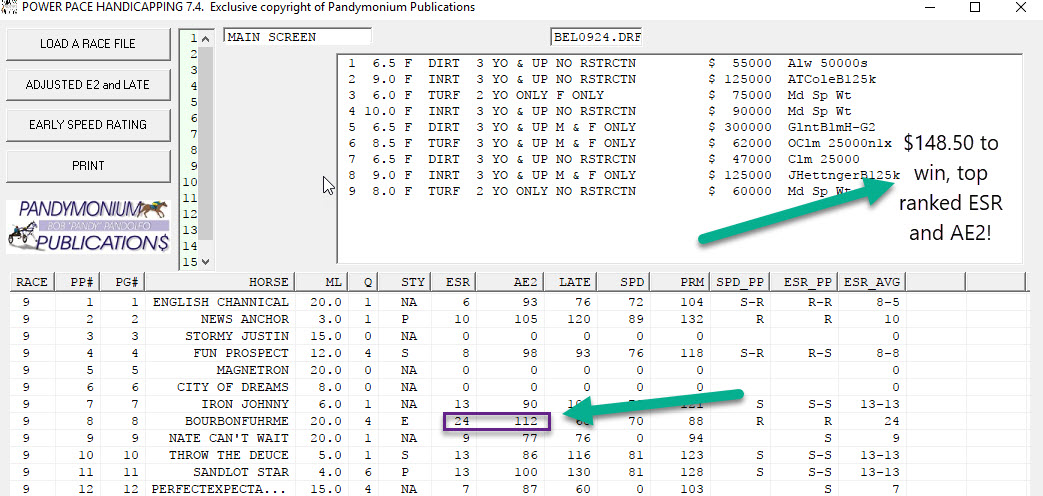 You don't need to use the software to benefit from the book, but I'll show you what the software looks like. Below is an example that's in the book. The AE2 rating is an adjusted pace rating for the second call. This was a mile and a 70 yard (two turn) route race. As you can see, Belle Of Bowdoin has a 4 point advantage over the 1 and 4 horses. The Late figure is her adjusted Late Pace figure, which is 90. This is a huge advantage of 13 points over the 7. Her average speed figure (based on two of her recent races), is 64, very competitive in this race. Belle Of Bowdoin was a "Speed and Stamina Spot Play" according to the rules in the book. I bet this horse and never looked at the past performances.
Monmouth, August 6, 2016, 1st Race
Power Pace Handicapping

Here is the chart of the race. Belle Of Bowdoin not only won, by she crushed the field and paid $15.00. The Power Pace Figures clearly showed that she had the tactical speed to be in good position at the pace call, and she could finish. Oh, man, could she finish.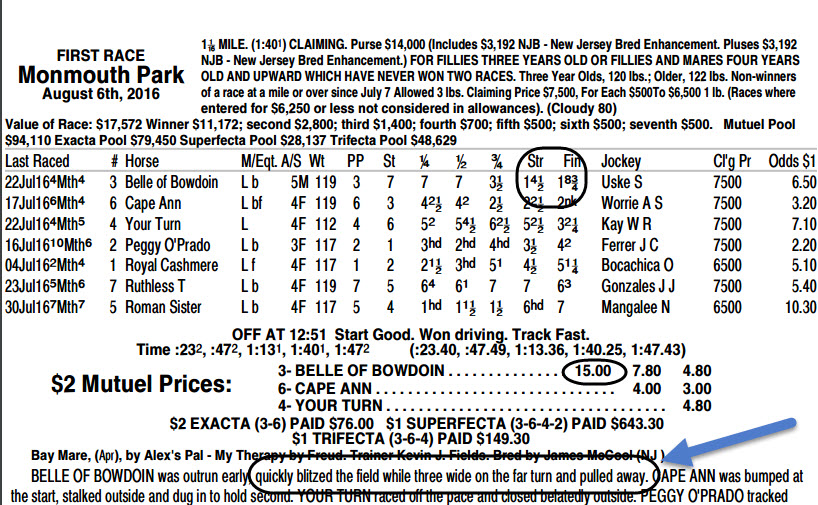 Today's (Wednesday, August 31) feature race at Saratoga, the GR2 With Anticipation stakes, was a mile and a sixteenth turf race for two year old fillies. When I first looked at the race, I thought it was a tough one to figure. Here you have fillies who have only raced two or three times and most of them are going long for the first time in their careers. But, the 7, Keep Quiet, had actually won at this distance. She was the only route winner in the race, and she broke her maiden right here at Saratoga. She also had the top last race speed figure. Before I started using the Power Pace method, Keep Quiet may have been my pick. But then I ran the numbers, as you can see below.
The Power Pace Figures are the best handicapping tool I've ever seen for evaluating stretch out horses. Made You Look's figures, across the board, were superior. She was fastest to the pace call, a faster closer by a whopping 10 points over Keep Quiet, and even her Power Pace speed figure was better, because I use a two race average, not just one race. Once I saw the Power Pace Figures, I made Made You Look a Best Bet on my selection service, and I bet her. She won easily at 8-5 odds. Keep Quiet finished 2nd but was no match.
Saratoga, 9th race, August 31
Power Pace Handicapping

On Saturday, September 3, at Saratoga, here are my selections as they appeared on a popular tip sheet (Lawton) that is sold at the track, and I picked it the same way on my Sharphorses Selection Service. Notice that I picked Gentrify second, and my comment is One To Beat. Normally when a handicapper uses that term, the horse is a favorite or second choice. But Gentrify won and paid $29.00. How did I know that this longshot was the horse to beat? Check out the Power Pace Figures below.

In the Power Pace Handicapping pace profile below, look how dramatically the first two finishers stand out. Roll Tide Roll, the odds-on favorite, had a 115 Pace Figure and a 132 Late Pace figure, plus the top Speed of 100. Gentrify was clearly the main rival with strong second-best numbers in all three categories. Gentrify won and paid $29.00 and Roll Tide Roll finished 2nd. The exacta paid $75.00. Also, note that Money Changer is clearly third best on the numbers. He ran third and the trifecta paid $178.50.
Saratoga, 2nd Race, September 3
Power Pace Handicapping

F.A.Q.
1). I understand that the Power Pace book comes with a free computer software program that uses Bris single data files and other files. Do I have to use the software to benefit from the book?
No, you can figure out the pace figures with a calculator, or I also show you how you can use the Timeform early/late pace figures in a similar manner, so for those of you use use Timeform, they work well with the methodology in this book. DRF formulator users can also use the Moss pace figures but you'll have to adjust them the way I show in the book.
Moreover, anyone who reads this book will get a good idea of how to view the pace profile of a race the way I show in this book, which is a potent angle in itself. This book really shows the power of pace handicapping and everything is explained in great detail complete with many examples. The methodlogy in this book is powerful.
2). How to I use the software?
The book comes with complete instructions. It is extremely easy to use, very user friendly. All of the columns are sortable, it has a print option, it has a scratch horses option, and all of the calculations are based on two race averages except when that's not possible.
Note: I'll continue to update this page with more information on Power Pace Handicapping, The Speed And Stamina Spot Play Method, and the dynamic approach to handicapping sprint races that I show in this book.
email - pando4444@gmail.com
Updated June, 2022